Shopping Cart
Your Cart is Empty
There was an error with PayPal
Click here to try again
Thank you for your business!
You should be receiving an order confirmation from Paypal shortly.
Exit Shopping Cart
| | |
| --- | --- |
| Posted on February 19, 2018 at 4:00 PM | |
I have been seeing much chatter about the topic of icing injury lately. Being an athletic trainer for several years, I am probably pro icing as well as the whole R.I.C.E. principle. I have blogged about R.I.C.E. in the past for acute care. But of all the things I have seen, I will always remember being a student athletic trainer at the high school level. One of the boys basketball athletes had a moderate ankle sprain. Our protocol was R.I.C.E., but as I have his swollen ankle elevated and activated the Cryocuff, the coach comes in and tells this athlete to "put a warm sock on it and walk it off!" All I could think at the time was "Man is he off his rocker! Good thing the trained ATs are here!"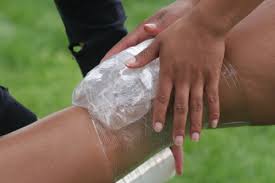 So am I (or you) practicing evidence based medicine? Was the coach off his rocker or smarter than the medical professionals I learned from? Here's the scoop!
I first learned of the inflammation process (and the histology of it) in college. Every place I have ever studied, has emphasized to enhance the body's own healing process, create a positive environment for your body to heal itself. Inflammation is the first response your body produces when something is wrong and healing needs to begin. It is generally marked by redness, swelling and pain. It has two main purposes 1) to tell you to stop (so you do not cause any further damage and inflammation) and 2) to send healing chemicals your body needs to begin repair. No one wants to stop this process, nor can we.
Cryotherapy is a modality of cooling the body using various forms of water ( and ice).    It causes vasoconstriction as well as acts as an analgesic.  Just like any other modality, it is best to understand how it works as well as indications vs contraindications.  Using different forms requires different variables.  Different forms can consist of an icebath, real ice vs chemical ice or a machine like the Game Ready or Cryocuff.  Timing of each will depend on the body part being treated, the stage of the injury and the form of cryotherapy being used.
I have not personally seen any athlete directly harmed from this modality, but you do need to be cautious as I have heard of athletes that have had cold placed over superficial nerves. That is not really a good idea. I have also heard of cases where tissue damage was avoided due to the use of cold modalities.
Ice is not a cure and does not prevent injury. It reduces symptoms so that we can break the pain/swelling cycle and move forward in the therapy and healing process. I don't doubt that ice can be overused in a busy athletic training room, but we all know that the inflammation will not resolve until the source of the inflammation is removed regardless if it is trauma, allergy or poor mechanics.
Use ice as needed to relieve the symptoms of inflammation. I was not able to find any modality that stops the inflammation process and I do feel that managing a situation to relieve pain or excessive swelling is treating an injury responsibly. While the body is amazing, we do need to be responsible and not let inflammation get into small extremities/digits due to gravity, enhancing further soft tissue damage. When treating an injury or working on increasing your performance do not be afraid to find the science of that particular modality. See what the research says. Most modalities need to be used responsibly and as a tool to assist recovery. These modalities on their own or not within the specified parameters for the timing and injury type will not be as productive. Balance is always necessary.
 
Categories: athletic training, performance, health
/