Shopping Cart
Your Cart is Empty
There was an error with PayPal
Click here to try again
Thank you for your business!
You should be receiving an order confirmation from Paypal shortly.
Exit Shopping Cart
It is the official possition of Fit Body Shop that we are all one unit, one body, one person.  Our body functions as one being and for a while I have known this but had trouble putting it into words.  I could tell you why if you stubbed your toe, your back hurt, but not always why when I'm working on your shoulder, you can feel down to your toes.
Often I would remind my client that we are all connected.  You cannot seperate any body part and give it to me for the afternoon.  Its not like dropping off your car at the shop.  Well, our body is very well connected.  Not only do muscles and joints directly affect other muscles and joints, but we also have an extremely amazing fascial system.  The fascial system is very detailed connective tissue holding together every cell and system of our body.   It is quickly becoming known as the largest sensory system of the body.  Because it directly touches each system and it is one seamless piece of tissue, it has drastic effects on the body when damaged, traumatized or over stressed.  It can restrict motion, cause nerve pain, stiffness, weakness and muscle imbalance.  This system needs to be treated with myofascial release, a slow, easing treatment that will restore proper tension in all tissues.  I integrate this with other techniques for full recovery.
Just because you hurt in one spot, doesn't mean another area isn't causing the pain or isn't being stressed.  Treat the whole body as it all has to work together.  Mechanics, Fuel & Perform at your optimal potential!
Do powerlifters need massage and bodywork?  This is a question that does not get visited often and definitely has many view points. I have worked with a large variety of competitive athletes. Some seem to like it and could never go without, while some just don't seem to prefer it. So here are my personal thoughts on how massage and bodywork affect powerlifting performance.
Every person, everybody needs a starting point. Most people can agree that a healthy point would be that of neutral posture. We should be able to stack our kinetic chain as building blocks, in this case, knees over toes, hips over knees, shoulders over hips, and ears over shoulders in the sagittal plane. While in the coronal and transverse planes making sure the knees track between the 2nd and 3rd toes and shoulders are rotated to turn the thumb out. So while static posture is all great and wonderful we (especially competitive athletes) are very dynamic in nature. Not only that, but everything we do all day long is in front of us. We can ergonomically make things better, but we cannot change this. Take into account that some powerlifters have jobs and may be lifting when they are working too. Now we are combating activities of daily living and the possibility of sitting for long periods possibly being at a computer, life stress and followed by the trauma of a workout. Poor posture and myofascial considerations will lead to the cumulative injury cycle. This cycle needs to be broken to keep all points of the kinetic chain working in harmony (joints, muscles & nervous systems).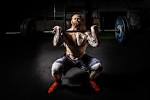 There are many techniques that can be used by your practitioner. These techniques are designed to restore fascia, inhibit overactive muscles, stimulate underactive muscles, restore muscle balance, improve circulation, decrease pain and improve recovery. Overall leading to improved performance. I could probably tell you massage is good for everything. So why would someone not utilize this precious tool?
First time trial and error. Unfortunately, I don't know a great way around this but you have to find someone you trust and can have great communication with. They need to understand your goals for each session. Also, a first session is a starting point for the therapist to just find where the deep issues are and how you respond. So first times are kind of a learning curve for everyone.
Timing. Massage and bodywork needs to be scheduled around workouts and competition. Never get a deep massage right before heavy lifting or competition. This will break down tissues as well as make receptors less responsive, possibly leading to a feeling of weakness or even increased chance of injury. You can still get in a session, just make sure that you both are on the same page so that proper techniques can be used. A pre-event massage can be very helpful,effective and keep you focused, but it won't be deep.
Touch. Some people do not like to be touched for so many reasons from sensitivity, trauma, vulnerability, to being apprehensive of a healing injury. Always communicate with your practitioner what your goals and concerns are and treatment will be adjusted. Consider options like reiki or strain-counter strain, as they are very non-aggressive and work even if you do not like to be touched. If things cannot be adjusted to your level, try a foam roller.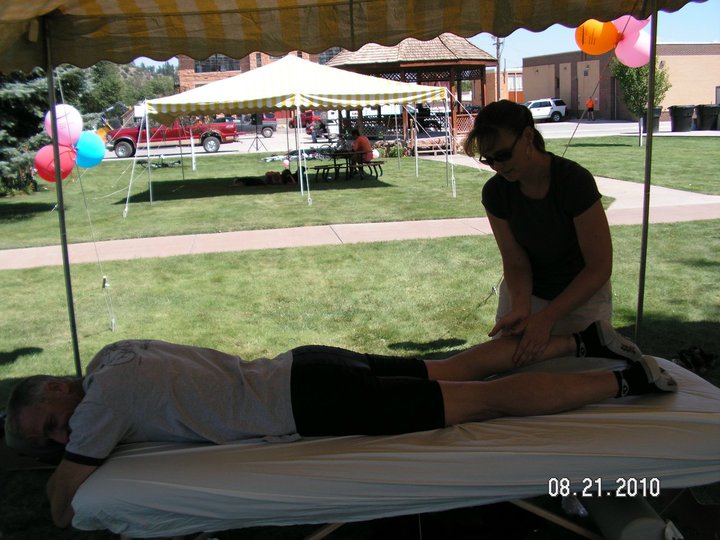 So think of your body as an important tool. This tool is what wins competitions. It needs to be properly used and taken care of. Proper exercise, nutrition, sleep & rest and bodywork are needed to maintain optimum performance. Just as you need the right exercise prescription, healthy nutrients and the proper balance of rest, you also need bodywork that will promote performance in your phase of training. This is why so many athletes take advantage of the massage therapy at the OTC. Because they need it:)




One of the best parts of my job is sports massage. Most days athletes are happier to see me as a massage therapist than an athletic trainer. I don't think it has much to do with how uncomfortable treatment can be as much as their mental expectation. Plus, I'm not determining the amount of their participation time with their coach.




I see a large variety of athletes from weekend warriors, runners, high school athletes, college athletes, hockey, rugby, weight & power lifters. The techniques I use are varied and integrated based on client injury, goal and sport. Some injuries are more repetitive in nature and some are just due to contact and direct trauma. I firmly believe that each athlete is one body, one unit, one person and therefore treat the body as a whole. By ensuring that all movement patterns are functional and eliminating even small dysfunctional patterns, injury can heal more quickly or even be prevented.

 

Massage therapy is a great way to keep your body in check. By providing movement assessments, we can see right away which muscles need to be activated, lengthened, inhibited and integrated. This keeps your body working at its optimal potential.

 

Don't feel that sports massage will make you soft, even if you are feeling good. Really, you should want to maintain that "feeling good". While maintenance to support your body's health is imperative, it does not mean that your treatment will be specifically relaxing or super comfy. It can still be uncomfortable to release those knots, regain joint motion and strength. It does depend on what the goal of the session is and where you are at in your training program. So talk with your sports massage therapist about movement assessments, past and present injuries, workouts and competitions so that proper techniques can be used at the right time.

 

By consistently utilizing sports massage, you will be able to maintain health, strength, speed, agility, and dodge potential injury at the same time. Perform at your optimal potential!




https://www.sharecare.com/health/massage-therapy/what-is-sports-massage" target="_blank">Sharecare: Massage therapy

 

For a few years, I was an active member of the American Massage Therapy Association's sports massage team. I loved it! We traveled all over Minnesota and provided post event massages to athletes of all levels (and health conditions). We met so many wonderful people who traveled the country to stay active and support their cause. I learned so much from that team. At the time, I was young and had all the pieces I needed to be a good event therapist, but really didn't know how to put all those pieces together to create what the athlete needed. So I thought I'd pass on some of the helpful tips they gave me and provide ahttps://www.facebook.com/notes/soost-outdoor-fit-biz/event-massage-therapy-check-list/1013499542070154" target="_blank"> printable checklist of things you need to bring with you. This way it will be easy to find and you can print one out for every event.

 

Event massage is very different from clinical massage that you practice in your office. Most often these massages are provided outdoors, post event. The athletes are dressed, sweaty and usually dirty depending on both the event and the weather conditions. I always bring my massage cream, but never use it. Long, slow strokes are not used at this time. If the athletes would like to make an appointment with you at your place of business at a later time for something more relaxing that is fine. However, at this time it does not work to accomplish what we need. Short, rhythmic strokes, petrissage, tapotement, wringing and stretching will be focused on.

 

Time is an issue. Last year at Grandma's Marathon there were 6077 finishers. That is why they need a lot of volunteers! Your line gets long. Make sure you give each athlete the attention they need, but they are not going to get an hour and half clinic setting session. Approximately 10-15 minutes per person. Also, this means you have to pay attention to yourself. It is very easy to get caught up in what you are doing, seeing all those athletes and keep on a goin'. Many of these events are during the summer when it is hot and sunny. You need to take a break. Eat. Rest. Drink plenty of water (and of course take a potty break). I know it sounds silly, but we are not the ones they want to see in the medical tent!

 

We may not be the medical tent, but often we may be seeing the athletes first, who should be in the medical tent instead. Many of the events that need massage therapists are those trying to raise money for a medical group. MS Bikathon in Sundance is a good example. But there are also many "race for the cure" type events as well. These are passionate people. They literally travel around the country raising money and awareness for their cause. Always ask about prior/current injury. But also ask about their health status. Do they have cancer? Do they have MS? What are their symptoms today? Is that new? These are strong people that do amazing things and can often push their bodies to do amazing things. When you consider they have a medical condition, are performing in wind, heat, cold or rain--they DO NOT tell their family and friends that they lost feeling in an extremity or most of their vision hours ago. They just keep going. The other thing I came across working at Grandma's Marathon that is a little more difficult to detect is, are they coherent? There was a man who had just finished the race and wanted a nice massage after. He didn't appear dizzy or out of place. He was very friendly and full of conversation. However, he was talking about his children. Once his wife heard him, she immediately spoke up and they rushed him to the medical tent, as they had no children.

 

Always check with the event you are volunteering at about their expectations. Many of these events are fundraisers for a cause. Most of the time the massage services are free to all competitors. A tip jar can be put out for donations. Some events are just happy you showed up, so if you don't donate it back that is your choice. Some events want a percentage of what is donated and sometimes it is expected that you donate all of it since it was a fundraiser. I think it is most common to donate at least 50% back to the event, but each event is different.

 

I have attached a printable list of things to bring with you to your sport event. These are things probably not normally found in your clinic unless you regularly provide massage at a sport event. You will need a plastic fitted sheet. In the past I was always able to get them at Walmart or Kmart without issue, but I have not found them in stores recently.  You may need to buy a plastic sheet online.  You need to have a plastic sheet on your table to protect it from grease, grime, sweat, chalk and actual dirt. You will need something on your table that is easy to clean and sanitize between each athlete. Remember the athletes are dressed so you don't have to worry about draping. Also, with hundreds of athletes, even at the smaller events you are not going to have enough sheets or time to change them.

 

Next you need 4 wood blocks. About 4x4 square to put under each table leg. This will prevent your table from sinking into the ground and leaving you wondering how your table got so short without an adjustment. You don't want that dirt getting into your table.

 

Bring lots of cleaner! You need hand sanitizer for your hands between each athlete. You will also need cleaner for your table. I have used clorox wipes but you can also order hospital grade Cavicide wipes if you prefer. Paper towels are useful if you are using a spray cleaner or need disposable face cradle covers.

 

Bring a tip jar. A sturdy one that can handle Wyoming type weather. Sometimes people forget that part and end up using a paper or plastic bag---they blow away in the wind and are generally not a good choice.

 

Please volunteer to work a sporting event in your area. The athletes not only need it, but really appreciate it. The people you will meet will be remarkable. It is so worth your time.  If you have any trouble accessing the printable link I provided, please message me and I can email it to you.




 

0

/