Shopping Cart
Your Cart is Empty
There was an error with PayPal
Click here to try again
Thank you for your business!
You should be receiving an order confirmation from Paypal shortly.
Exit Shopping Cart
I have already had a few blog posts regarding posture. But with this new movement series, I strongly feel that it's the best place to start. Everything begins and ends with posture resulting in overall strength, range of motion, joint mechanics and possible injury (or injury prevention). Initially when thinking about posture, think of being stacked like blocks. Head held high, ear over shoulder, shoulder over hip, hip over knee, knee over ankle. Basically one big straight line. At rest this allows even tension on each joint as well as the muscles firing synergistically and working well together.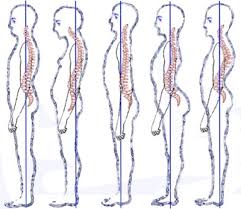 So this is all well and good, but what happens when you add in life? Sitting at the computer, fixing vehicles, washing dishes, caring for children and even sports all put people in a position of repetition in the same motions causing some muscles to over time become over stimulated while others are under stimulated. In addition, our bodies are created for motion. So if our day does not require much motion such as sitting at a desk all day, driving for long periods, etc. trigger points (and other tender points) set into the muscles causing pain and dysfunction.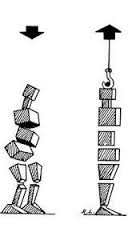 Try to create an awareness in your environment. Place things further away in your office space so that you have to get up to get supplies /throw away trash or adjust your rear view mirror in your vehicle so that you can only see out of it when you are sitting in good posture. When starting a walking program, make sure you add in posture walking. Pull your head up high, stack your major joints and do not forget to engage your core. This is always the best starting place and I don't think that everyone realizes how much our everyday lives factor into our posture and that in a domino effect poor posture can result in dysfunction, pain and injury. How are you stacking up?
For a few years, I was an active member of the American Massage Therapy Association's sports massage team. I loved it! We traveled all over Minnesota and provided post event massages to athletes of all levels (and health conditions). We met so many wonderful people who traveled the country to stay active and support their cause. I learned so much from that team. At the time, I was young and had all the pieces I needed to be a good event therapist, but really didn't know how to put all those pieces together to create what the athlete needed. So I thought I'd pass on some of the helpful tips they gave me and provide ahttps://www.facebook.com/notes/soost-outdoor-fit-biz/event-massage-therapy-check-list/1013499542070154" target="_blank"> printable checklist of things you need to bring with you. This way it will be easy to find and you can print one out for every event.
Event massage is very different from clinical massage that you practice in your office. Most often these massages are provided outdoors, post event. The athletes are dressed, sweaty and usually dirty depending on both the event and the weather conditions. I always bring my massage cream, but never use it. Long, slow strokes are not used at this time. If the athletes would like to make an appointment with you at your place of business at a later time for something more relaxing that is fine. However, at this time it does not work to accomplish what we need. Short, rhythmic strokes, petrissage, tapotement, wringing and stretching will be focused on.
Time is an issue. Last year at Grandma's Marathon there were 6077 finishers. That is why they need a lot of volunteers! Your line gets long. Make sure you give each athlete the attention they need, but they are not going to get an hour and half clinic setting session. Approximately 10-15 minutes per person. Also, this means you have to pay attention to yourself. It is very easy to get caught up in what you are doing, seeing all those athletes and keep on a goin'. Many of these events are during the summer when it is hot and sunny. You need to take a break. Eat. Rest. Drink plenty of water (and of course take a potty break). I know it sounds silly, but we are not the ones they want to see in the medical tent!
We may not be the medical tent, but often we may be seeing the athletes first, who should be in the medical tent instead. Many of the events that need massage therapists are those trying to raise money for a medical group. MS Bikathon in Sundance is a good example. But there are also many "race for the cure" type events as well. These are passionate people. They literally travel around the country raising money and awareness for their cause. Always ask about prior/current injury. But also ask about their health status. Do they have cancer? Do they have MS? What are their symptoms today? Is that new? These are strong people that do amazing things and can often push their bodies to do amazing things. When you consider they have a medical condition, are performing in wind, heat, cold or rain--they DO NOT tell their family and friends that they lost feeling in an extremity or most of their vision hours ago. They just keep going. The other thing I came across working at Grandma's Marathon that is a little more difficult to detect is, are they coherent? There was a man who had just finished the race and wanted a nice massage after. He didn't appear dizzy or out of place. He was very friendly and full of conversation. However, he was talking about his children. Once his wife heard him, she immediately spoke up and they rushed him to the medical tent, as they had no children.
Always check with the event you are volunteering at about their expectations. Many of these events are fundraisers for a cause. Most of the time the massage services are free to all competitors. A tip jar can be put out for donations. Some events are just happy you showed up, so if you don't donate it back that is your choice. Some events want a percentage of what is donated and sometimes it is expected that you donate all of it since it was a fundraiser. I think it is most common to donate at least 50% back to the event, but each event is different.
I have attached a printable list of things to bring with you to your sport event. These are things probably not normally found in your clinic unless you regularly provide massage at a sport event. You will need a plastic fitted sheet. In the past I was always able to get them at Walmart or Kmart without issue, but I have not found them in stores recently.  You may need to buy a plastic sheet online.  You need to have a plastic sheet on your table to protect it from grease, grime, sweat, chalk and actual dirt. You will need something on your table that is easy to clean and sanitize between each athlete. Remember the athletes are dressed so you don't have to worry about draping. Also, with hundreds of athletes, even at the smaller events you are not going to have enough sheets or time to change them.
Next you need 4 wood blocks. About 4x4 square to put under each table leg. This will prevent your table from sinking into the ground and leaving you wondering how your table got so short without an adjustment. You don't want that dirt getting into your table.
Bring lots of cleaner! You need hand sanitizer for your hands between each athlete. You will also need cleaner for your table. I have used clorox wipes but you can also order hospital grade Cavicide wipes if you prefer. Paper towels are useful if you are using a spray cleaner or need disposable face cradle covers.
Bring a tip jar. A sturdy one that can handle Wyoming type weather. Sometimes people forget that part and end up using a paper or plastic bag---they blow away in the wind and are generally not a good choice.
Please volunteer to work a sporting event in your area. The athletes not only need it, but really appreciate it. The people you will meet will be remarkable. It is so worth your time.  If you have any trouble accessing the printable link I provided, please message me and I can email it to you.
It has come to my attention that when we need medical help or advice there are not always enough options.  If you have questions about something in an area that is not your expertise, where do you go?  And how do you weed out fact from fiction?
Going through school we were always taught (regardless if it was AT school, massage therapy school or grad school) to have a full tool box.  This meant that if I only had a hammer in my tool box I would only have the hammer to, yes, pound nails, but also to tighten screws, lug nuts and allen bolts.  A hammer might be useful for those nails, but perhaps a few other tools might come in handy for those other jobs.  We were always eager to learn and become effecient at new techniques!
Now, as excited as we are to learn new things there are a couple of things to keep in mind.  There is no one person that has every tool in their tool box.  There are just too many.  Most health care providers find their nitch and stick with it.  So if you ask a surgeon, he will provide you a surgical solution.  If you see a nutritionist, he will provide you a nutritional solution.  If you seek advice from a chiropractor, he will provide a chiropractic solution.  You get the idea.  That is what we study and what we promote.  Not to mention that per profession, we need to stay within our own circles due to scope of practice laws.  As an athletic trainer I can diagnose and treat athletic injuries, but I cannot provide chiropractic care, prescribe medications or provide accupuncture, just to name a few.  However, it is my job to understand how other providers and services or even techniques that I am not certified in, can enhance my athletes' health and recovery.  I do provide massage therapy services in a variety of settings.  It has been found to enhance chiropractic treatment, accupuncture treatments, physical therapy treatments, as well as improve recovery time from injury including surgical procedures.
When looking for a provider, look for:
Experience
Open mindedness
Possibly certified in other areas
Don't ever be afraid to ask for a second opinion
As a professional:
Learn to network with other providers
Stay up to date on several treatment types in order to provide healthy options for patients, clients and athletes
Remember you provide your service well.  Referring to another provider will enhance your service and only make you look better.
We are many parts, but only one body.  We need to be treated as a whole person.  It may take one provider, it may take a team who can work together.  Always know all of your options and don't be afraid to speak up and ask questions.  If your provider only has a hammer in his tool box and its not getting the job done, it does not mean you are untreatable.  It means you have not found the right tool yet.
To tape or not to tape? That is the question. Athletes come in preparing for competition and want a magical tape job on the joint of choice. There was a time I even taped the water boy's wrist only because it made him feel included, part of the team. And while circumstance made that o.k., there are several taping requests that I have denied. So here is the scoop.
Just for clarity, there are several kinds of tape, all with separate purposes and techniques. This particular article is specifically on the use of athletic tape, its purpose and best use. So many athletes, coaches and parents are under the impression that athletic tape is for stability. It sort of is, indirectly. Those asking for the tape usually feel the tighter the better and that if they can't move, then they have a much smaller chance of injury or reinjury. This is completely untrue. Injury prevention is specifically about maintaining proper joint mobility, joint arthrokinematics (function) and muscle balance/recruitment. If any joint has been stretched beyond its normal limit and become lax, athletic taping may be an option. However, not because the tape is tight and restricts normal motion.
Athletic tape is cotton tape that has a strong adhesive on the back. There is no elastic quality about this tape. Several studies have been done regarding the stability and how exactly this technique works. When regarding the ankle, it has been shown that athletic tape does not provide stability, as in lack of range of motion. The tape, however, does provide some kinesthetic awareness. It allows receptors to determine where our body is in space, reducing the chance of the joint to go beyond its normal motion. Plus the actual feeling on the skin, gives a feeling of support, which many people like. This tape, when worn will loosen with motion and possibly when warmed with body heat.
The criteria I use when choosing to use athletic tape:
It must be a small joint. This seems a little restrictive, but I do not tape for knee ACL, PCL or MCL, shoulder dysfunction and elbows are iffy. Our muscles are strong, long and mobile. Joint dysfunction or powerful trauma is often the cause of injury. These joints are more powerful than a bit of tape. Often times even using a strong metal brace is not enough to prevent a ligamentous injury in these larger joints. Tape just is no match. I will tape fingers, wrists, hands, feet and ankles.
It must be able to maintain normal motion.  While we hope to reduce excessive motion, we do still need to maintain normal motion.  Running or jumping would be hindered if you could not plantar flex your ankle.  Taping a finger into extension without having any flexion is an injury waiting to happen because it would leave the joint(s) vulnerable not only to possibly poking someone or  getting jammed, but if it got caught on anything you may not only end up with a finger injury, but a hand injury as well.  Everything needs to remain functional.
It must be a joint. Now of course if I need to I will use it to cover a wound/bandaid so that play can continue without blood. In this case I use it loosely. Often only half way around the extremity at a time, until it is secure. There was a time when we were taught to use athletic tape (or other barbaric methods such as plastic wrap) to prevent the pulling away of muscle from the bone during medial shin splints. This, however, causes a physiological issue for the muscle tissue (and other soft tissues), as it does not stop the muscle from pulling away from the bone. Now the muscle does not have the space it needs to contract, but gets compressed (athletic tape is does not have an elastic componet to it), often times causing more damage to the muscle tissue.
The joint must be ready for competition. Swelling, bruising, range of motion, strength and balance must all be in check. The athlete needs to be able to show that athletic tasks can be performed without compensation (such as limping, for example).  Please note that applying athletic tape does not provide healing or reduce the injury you have already sustained.  It just helps keep things in check, a little protection.
If you are covering a game and not regularly working with the team everyday, taping of the smaller joints probably won't hurt anyone. However, when you have a team that is getting consistent treatment, it is very important to treat the dysfunction. Injury prevention is about maintaining normal joint motion, proper muscle recruitment and improved posture of every joint.  Please feel free to check out these studies regarding ankle tape for stability.
Every sport has an element of risk to it that can lead to an injury.  When there is minimal swelling and bruising it is recommended to use the R.I.C.E principle.  Rest, Ice, Compression and Elevation.  The sooner this can be implemented, the sooner healing can start and in theroy--minimize the damage.
Rest     Resting an injury is important to prevent further injury.  Stop doing what you are doing and take it easy.  This may mean not walking if a lower extremity is causing a limp or to avoid activities that cause pain to an upper extremity.
Ice     Ice is recommended as it is an analgesic to reduce the pain.  It will also decrease the swelling.  Keep in mind that swelling causes pain, so by reducing the swelling we are reducing the pain twice with this one.  Heat has a tendency to bring in swelling, so for the first 78 hours after injury, do not heat the injury.
Compression      Providing some gentle compression will assist in decreasing the swelling and pain.  You can use an ace wrap or a compression sleeve.  Always remember to make sure it is even across the skin so that you don't get pockets of swelling.  Make sure that it is not too tight (a compression wrap should be pulled about 50% of its tension) so that you do not hinder good blood flow to the area.
Elevation     Raising an extremeity above the heart will slow down the swelling and keep it from throbbing.
Depending on the injury this is great to do immediately.  Always make sure that any injury is properly assessed by a professional to make sure nothing serious has occured and been overlooked.
For other great tips and to see how my anwsers stack up with other health care providers check out our answers here.
https://www.sharecare.com/health/sports-injuries/treat-minor-sports-injuries

Definition:  Ligaments are soft tissue that hold (attatch) our bones together.  Ligament is fibrous soft tissue that holds one bone to another so that our joints are sturdy and can hold us together.  When the ligaments get pulled or stretched too quickly or past the normal range of motion, the ligament tissue gets damaged and needs to heal.  This is a sprain.
Treatment:  
How far and how many of the tissues were damaged will determine healing time.
Always make sure your healthcare provider has ruled out any type of fracture or any other diagnosis that may have occured during the injury.
Initial treatment should include R.I.C.E. (Rest, Ice, Compression and elevation).
After 72 hours (depending on severity of injury and your healthcare providers treatment plan) you may begin gentle non weight bearing range of motion exercises.
After swelling and bruising have decreased and range of motion has returned you may start gentle strength exercises.
when working with the lower extremity, cutting, pivoting and plyometric drills should NOT be included into the initial treatment of a sprain.
Definition:  Our tendons are soft tissue that hold (attatch) our muscles to our bones, so that we can move our joints.  When the tendons get pulled or stretched too quickly or past the normal range motion, this tendon tissue is damaged and needs to heal.  This is a strain.  How far and how many of the tissues were damaged will determine the healing time.
Treatment: 
Always make sure a healthcare professional has ruled out any type of fracture or other diagnosis that may have occured during the injury.
 Initial treatment of this injury should include R.I.C.E. (Rest, Ice, Compression and Elevation). 
After about 72 hours (depending on how severe the injury is and what your healthcare provider recommends) you can start gentle range of motion exercises.  Non weight bearing.  Depending on the joint you can use a circluar motion, the abc's etc.  After swelling and bruising have started to resolve you can start gentle strength training.  When working with the lower extremity, drills that include cutting, pivoting or plyometric training should not be included in the initial treatment.
I have been in this industry for a long time and its amazing to watch both the training trends change as well as the science behind it.  For the longest time, athletes have watched other athletes train and they take away bits and pieces that have worked for others in hopes it will also work for them.  While there might be some merrit in striving to be like those who are successful, it is also very random and non specific.
Regardless if you are an elite athlete or a weekend warrior, your goal is to perform your best while minimizing damage and injury.  Methods are slowly changing, but the science behind it is stong.
More and more are finding stong athletes.  Who doesn't like a good day of lifting?  But the movement patterns are not so strong.  Poor movement patterns, regardless of how stong you are will at some point lead to overtraining and predictable injury patterns.  Have a professional check out your movement patterns and see what might need to be worked on.  Always include a program that will help balance these issues into your warm up and cool down.  Sometimes your workout may only focus on problem areas, until you can get things working properly.  Even then, we are creatures of habit and will go right back to the activities that got us out of whack in the first place, so it is a good idea to rotate a corrective plan into your regular peridization.
Contact me for questions, assessments and solutions to enhance your athletic development.
We are all looking for the safest way to stay active, to meet our health and fitness needs. While we cannot prevent every injury, there are a few things that can be integrated into our work out program to steer us closer to health.
Our posture is super important when looking at injury prevention. When we do not have optimal posture we do not have optimal movement patterns. This can lead to overuse injuries such as tendinitis. Incorporating exercises that counter act activities of daily living can help to straighten us up.
We were created to do everything in front of ourselves. We end up hunched over our computers, crouched over our kids or straining our necks forward for a better look. These are everyday tasks that wear on us, but cannot be avoided. To counter act all we do, it is important to find exercises that open up our bodies, let us stand tall and most importantly, take in a beautiful breath. Exercises might include reverse flies, hip extension, back extension or standing Y T I's. This will help to activate understimulated areas while stretching out tight, overactive areas.
Massage therapy is also a great way to combat poor posture. By opening up our shoulders and hips, we can have better overall alignment and prevent many types of injuries.
We cannot prevent all injuries, but there are things we can be aware of. By focusing on our posture we eliminate poor movement patterns, breathe more effectively and create more possitive energy.
We have decided to make the time for the gym.  We sweat it out on the cardio machines and pump out our favorite weight training exercises.  As goals start to be met, we have to remember the full effects of training on our bodies and how to keep things in check so that we get the most out of our workouts.  We need to prevent overtraining and injury.
Overtraining is "A general term for any practice of, or training for, a particular sport which is in excess of that necessary to effectively participate in the sport. Overtraining increases the physical stress on specific parts of the musculoskeletal system, and increases the risk of injury" as  defined by the medical-dictionary.  When we work out, our bodies produces metabolic waste products that cannot be rid of quickly.  This along with tissue breakdown is what causes soreness and muscle fatigue.
Massage therapy is a hands on technique that can help rid the body of waste products while not contracting the muscle.  In addition to the waste products being pushed out, massage therapy also brings in oxygenated blood and nutrients to help heal the tissues from your favorite workouts.  This increases the healing process so you can recover quicker from your favorite workouts.  Athletes, fitness participants and others engaged in strenuous physical activity will also benefit from integrated manual therapy such as myofascial release, trigger point therapy, lymphatic drainage and deep transverse friction to keep muscle and surrounding soft tissue mobile and free from adhesions.  Receiving a massage in between workouts will not only reduce recovery time but also increase force production for those that enjoy lifting.
We need to keep working out and pushing our bodies to their potential, but reward your body with a regular massage.  Recover faster, push harder, reduce your chance of injury and keep those muscles balanced for your best workout yet!
/