Shopping Cart
Your Cart is Empty
There was an error with PayPal
Click here to try again
Thank you for your business!
You should be receiving an order confirmation from Paypal shortly.
Exit Shopping Cart
It may be a bit odd that I really don't like coffee.  I grew up with the smell of it every morning.  I was a Minnesota farmgirl, and we always had coffe breaks.  It was best to have coffee breaks at Grandma's, becuase she would also have "a little lunch" like a brownie or some sort of a bar to snack on with the coffee.  As a youngster I passed on the coffee, but delighted in the treats.  Now as an adult living in Wyoming, I am just finding out about a Swedish tradition called Fika.   
Fika means coffee break.  To just have a delightful warm beverage and socialize with people you want to talk to is just good for the soul.  So I have decided to create my  own version of fika.  I am learning how to make coffe, again, providing snacks of all sorts and inviting you to come.  This is a great time for me to catch up with you, for you to ask me any questions.  Its a good time to get recipes and food ideas from me.  Gain new ideas for your coffee. Bring a friend and enjoy.  I am not a coffee shop so you will have to excuse my trial and error, but I do hope to have some good recipes as well as feature some good snack places in town.
Always remember that you cannot pour from an empty cup, so follow me on Facebook to find out when the next Fika will be and what wonderful snacks will be available.  You are important, and taking care of your body, mind and spirit is a necessity.
If the weather is starting to bring on some spring fever and you are interested in adding coffee to your smoothie, try this.  Don't forget to post in the comments, how you like your coffee best.
Everyone wants to eat.  Something yummy!  I actually would love to know what your favorite food is?  Please feel free to post it in the comments.  No matter what you are eating, no one wants to feel guilty about eating.  If it is something we need to do, then we should probably make it pleasurable.  I find that as Americans in general, we feel the need to limit our diets and feel its not healthy if we are not eliminating something.  People will try to eliminate fats, carbs, protein (depending on the fad of the day), sugar, cholestrol, meat, plants and on and on.  When you eat this way you have a tendancy to stress about what you are going to eat or rather leave behind so that the guilt does not follow.  Stress does play a role in our overall weight.  In addition, after stressing about not eating whatever it was you left behind at some point you will go back, eat your guilty food and over eat it because you waited so long.  Probably not the best solution if you are trying to make some changes.
I suggest trying to add food into your diet.  Why not?  Be adventurous and try something new.  Add in a veggie a day.  May be try a veggie you have not ever had before.  Try adding in an extra glass of water a day.  Try adding in one piece of fruit.  obvioulsy, don't forget to add in breakfast, dinner and supper.  Skipping meals has never been healthy.  I personally like to snack on fruit and veggies becuase they are crunchy, quench my thirst and are yummy.  One new thing a week or a day is much less irritating than not having your favorite food.  By adding in breakfast or even just an extra fruit you will be on a journey that makes you feel better, crave less processed foods.  If you know what foods are throwing you off track, eat smaller portions and save for a special occasion.
Need some help with ideas for meals and snacks?  Click here to get inspired with recipes.
Let me know your favorite food and if you like the recipes.
1. Fitness assessment. This allows the both the client and the personal trainer to know where the start point is, what needs to be worked on most. Once you have a good start point, then we can more easily determine goals both short term and long term.
2. Correct dysfunctions. Corrective exercise lets us lengthen short tissue, inhibit overactive muscles, stimulate the underactive muscles and integrate the whole body to work properly as it should. Sometimes we have had a dysfunction for so long we don't even notice it until it gets pointed out or after it becomes painful. But correcting the imbalances will prevent injury and support your goals.
3. Program designed for your goals. Every goal has its own solution. Moving more and eating less is a great philosophy to start losing weight, but think about adding specific programming to that. You would be of fire! Endurance, Strength, Hypertrophy all have seperate programming, so once you have your goals set your personal trainer can design a program that will lead you safely and effectively to your goal.
4. No plateau. Hitting a plateau can really be a tough one to go through. However, there are ways around the dreaded plateau. By using the Optimum Performance Training Method™ we can change the variables that your body quickly gets used to. By using a varied system the body will always have to change and adapt.
5. Online provides easy convenient scheduling. Scheduling is always an issue when it comes to working out. Look at your schedule, see what times will be best for you and schedule your workout! By using the programming and videos provided, you can get a professional workout anytime of the day.
6. Online provides training at a location of your choosing. I love to work with everyone, but I just can't be everywhere. So if you are not a member where I work, this is no longer a problem. You can work out at home or any gym of your choice, with my professional programming. This can also keep drive time down.
7. Personal trainers keep you on track. By finding your starting point and having realistic goals we can keep you on track. If you are not meeting your goals we always have a solution. By monitoring your exercise programming and logged nutrition we can easily find what needs to be tweaked instead of playing the guessing game. No need to quit, because its not working!
8. Personal trainers are a great way to stay accountable. If you don't have anyone to report to about how the program is going, it can be easy to let it slide to the back burner. By checking in and having someone you can ask your questions to, you will much more likely to stick to the program.
9. Personal Trainers are mythbusters. There is so much information out there that it can be super difficult to sift through it all, know what pertains to you, what is unimportant and mostly the information that just is not true. It's nice to have someone by your side that can keep you on the right path and keep your eye on the prize. Myths can easily help you sabotage your goals without you even knowing.
10. Personal trainers are awesome! Yup, I said it! Personal trainers are awesome.  It is just always great to have someone in your corner believing you can do things that are out of your comfort level. Things you may be were not sure could be possible. You have to be dedicated and committed, but I don't let your self doubt in for a second. You can do this, I know you can!!
1. Improve your muscles. This is probably the same reason most people choose not to lift weights. However, this does not include bodybuilding, unless of course that is your goal. Strength training is the best way to keep and gain strength to pursue your desired activities and maintain proper muscle balance.
2. Improve your posture. Our muscles are connected to our bones to hold us upright to perform daily tasks and activities. Proper posture prevents injury as well as being aesthetic. It holds our confidence and our presence.
3. Improve your cardio. Most people do not think about lifting weights to improve their cardiovascular system. Running is not the only way to improve your cardio endurance. Change up your variables with your weight lifting program and you will see improvement.
4. Improve your flexibility. When weight training is done properly, it will move through your full range of motion, with a slight stretch at the end point. I almost always have better motion after a good workout and you should too.
5. Decrease pain. That is right! Who does not want decreased pain? Many people with pain have dysfunction due to weak muscles causing joints, muscles and other soft tissue to compensate. By increasing your strength and returning proper motion, your pain will be a thing of the past.
6. Increase bone health. Our bones need stimulation to regenerate faster than they break down. Weight training is an excellent way to do this. Weight training has been known to stop osteoporosis and in some cases even reverse it.
7. Goal setting. Having goals provides accomplishments and productive feedback. It does not matter if your are weight training for the olympics or so that you can climb the stairs without falling. Forward progress is always good. Plus if your goals are not reached on time you will know what to change, which is also positive.
8. Happy endorphins. Exercise, including weight training, can stimulate the natural chemicals in our brains that make us feel good. When you get in a funk, make time for the gym and get those happy endorphins working for you to reduce anxiety, depression and stress.
9. Happy body. When your body feels good, so do you. Things move along easier, you are less afraid of activities causing you pain or that you are unable. Feeling able and less stress lets you feel better on the inside and out.
10. Look great. While managing your nutrition is one of the best ways to manage your weight, weight training is what makes you look good. When you shed those pounds you want the muscle underneath to be strong and defined. Losing fat will create a smaller you, but losing fat and increasing your lean mass will give you that fit look you have desired.
I love the research and finding what's all the buzz in the fitness world.  But WHOA! There is so much out there.  I love to try new things and new recipes, but overwhelming is an understatement.
When it comes to food, I have grown it, cooked it, eaten it.  I have had classes, continueing education and participated with athletes on different diets.  So what's the best?  Mediterrainian, Paleo, grapefruit, yes carbs, no carbs, vegitarian, vegan?  I had to remind myself, this blog is not about complex counting, picking and choosing.  It does not matter what name you choose to give your diet, you just have to keep it simple.
Eat real food.--When you shop, buy whole food from the produce and meat departments.
Cook your own food.--This may sound daunting to some, but some of the best food you will ever eat are super simple recipes that you make yourself.
Read labels & pay attention to what you are eating.--Once you start realizing the things that make you feel bad after you eat them, you will want to make sure you don't eat them as often.  Comparing things like total calories, protein, carbs and sodium will help you make better overall choices.
Remember that protein, carbohydrates and fats are all nutrients that keep your body running in tip top shape.  Please do not choose to eliminate any of them from your diet.  They have a specific function that is important to your health.  If you are checking out different diet plans and one says to stay away from any of these nutrients, it is time to raise the red flag.  Most programs will recommend 40% protein, 40% carbs and 20% fat.  However, high level athletic goals may require some tweaking to reach max performance.  Some people will prefer a little more protein while others may need a few more carbs.  Regardless of your goals, your program will vary around this percentage system without cutting nutrients out.
By keeping things simple you can eat, you can snack and you can do it without much thought or effort, while maintaining your health.
Everyones fall flavor (of about anything) is pumpkin.  From pumpkin coffee to pumpkin pancakes, that beautiful orange squash is everywhere right now.  Pumpkins are more than just for carving and illuminating on Halloween to scare away creepy creatures.  So don't throw out your pumpkins or the seeds you scrape out of there at carving time.
Pumpkins are also healthy for you.  Pumpkins are full of nutrition including, vitamin A, fiber, folate, potassuim and beta-carotene.  It is low in fat and calories, (as one cup of cooked, boiled, drained, without salt) contains approximately 49 calories.  It can protect us from certain cancers, diseas and helps to age us well.
Pumpkin seeds are low on the glycemic index, high in fiber, iron, zinc and healthy fats.  They are a great option for those seeking nutrition from a more plant based diet.  Plus if you have allergies to soy or nuts, pumpkin seeds are a great alternative.
Not really sure what to do with the pumpkin once you bring it home from the store.  Here are some ideas that you might enjoy.
Julie's Pumpkin Pie Protien Shake
Roasting the seeds is super easy and you can add any spice you like! Sweet, Savory or Spicy here are some you are bound to love.
https://www.pinterest.com/soostbiz/yummy-food-in-a-jar/" target="_blank">Pumpkin in a jar
https://www.pinterest.com/soostbiz/nutrition/" target="_blank">How to cook fresh pumpkin
Pumpkin season is here for at least another month.  So eat up while its in season!
So recently  I have been urged by my clients and friends to try a fitbit.  I have seen them popping up everywhere and find them very intriguing.  I have much experience with regular pedometers.  Non-techy.  The ones you wear on your hip and have to measure your stide length to make sure it counts your steps accurately.  I am very definitely a fan of getting your 10,000 steps a day in.  I think that is important regardless of your fit level or goal.  I have been part of a few programs where we have given out the old school pedometers, taught how to use them and even provided challenges.
The fitbit is a little different.  And I like it.  I did not really get much for instructions.  You just turn it on and sync it to your device and off you go.  I have been using the fitbit charge which will track my steps, milage, average calories burned, flights of stairs, active minutes, sleep and water/nutrition.  I find it to be accurate and handy.  Except that when you meet your goals the watch looking device will vibrate, when I am not expecting it and while I am at the store or where ever, my eyes get a little huge wondering why my watch is angry with me.  Then I look and see that I made a goal and immediately I am excited again.
The best part--the fitbit will sync to my dotFit page!  This means you too can use fun gagets that require you to log info less will show me what you have been doing and I can still provide your individualized program.  Its difficult to create a safe and healthy program to everyone when there are many unknowns.  That's where I come in.  I will know your goal, fitness level and any past or current injury.  Your workout will be perfect!  So once a day you look at your workout and get it done and once a day you sync your fitbit to your page and vola...You are making your goals and feel great too.
Now I would also recommend the fitbit HR.  The charge that I use does not track heart rate.  I not only find heart rate to be very important, but I do like to create cardio programs for you that include heart rate.  Your resting heart rate will tell you in general how effecient your heart is working.  The fewer beats per minute, the healthier your heart is.  It should be between 60-75 beats per minute.  If you are a competitive elite athlete you might be down to 45-60 beats per minutes.  This means that your heart can pump out enough blood with one pump to all parts of your body well.  If you can't get enough blood out per pump then you have to pump more which can over time lead to an enlarged heart.  So keep an eye on your over all resting heart rate and if it starts to regularly go down, you are NOT dying!
Also a good cardio program is based on your heart rate recovery time.   The less time it takes for your heart rate to come back down after an intense bout of exercise is good.  So my workouts vary quite a bit, but includes you watching your heart rate.  This is great for weight loss as well as sport specific training.  Each sport has its own demands and this program can accomodate that. 
This past weekend was wonderful.  My husbsand had a birthday so we celebrated by going to the mountains to camp, fish, hike and do a little 4 wheeling.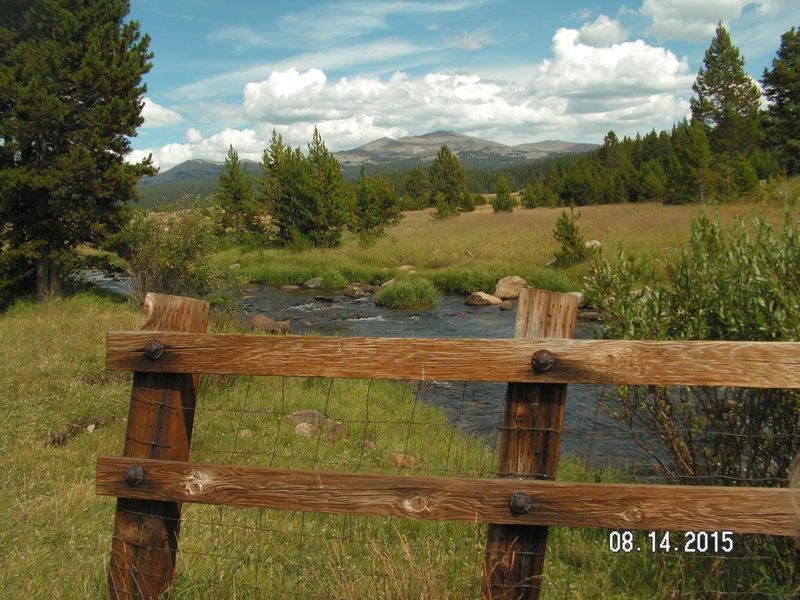 I have to admit I have not been 4 wheeling much ever.  My very first excursion brought me here.  Not too bad!  Living in Wyoming is wonderful.  I just wish the camping season was a little longer.  Already it gets pretty chilly at night up in the Big Horn Mountains.  I think we will need to be investing in another 4 wheeler.  I may have found a new, loved hobby!
Did you know that camping for a few days resets your whole system?  We tend to take in too much blue light, which comes from computers, TVs, tablets, energy effecient light bulbs and other devices.  While some blue light during the daylight hours can promote attentiveness, at night it can thow things off and even lead to poor sleep.  Getting enough sleep (6-8 hours of straight sleep) is important to reset our bodies and let hormone levels even out.  Poor sleep is related to increased risk of depression, diabetes, cardiovascular issues,cancer and obesity.  Harvard Health Publications noted that blue light at night can cause a decrease in melatonin.  Melatonin helps us get the proper amount of sleep we need each night .  Without the proper amount we don't get the sleep we need to keep our bodies healthy.  So plug in during the day and get your fix, but remember to unplug and stay away from  blue light at night.
Sometimes its nice when the plan just comes to you.  No guessing.  No over thinking things.  Just log in and look at the plan.  This is a nice one stop shop to meet any health goals.  All exercise, nutrition, supplements and support in one easy location.
1. Nutrition
Nutrition is the food choices we consume.  Everyone needs to eat, so this is important.  We all have basic energy needs to be met in order to breath and other maintenance of our bodies.  Add the energy that we require for activities of daily living like washing dishes, vacuming, grocery shopping and of course our workouts.  That total is how much energy we need to eat to maintain our current status.  When you enter the site, you will answer health questions that determine your average daily expenditure.  When you click on your goals, then we can determine if you need to consume more calories or less calories to meet your goals.  At this point you can also start logging your food.  This is super important to see where you are starting at.  Sometimes you really don't need to make several large changes, but just a few small alterations.  These alterations are easier for me to modify when I can see what is going on.  Please log your food accurately everyday.  It makes you accountable for your choices.
2. Exercise
It doesn't matter if you are a veteran athlete or just starting.  I use the Optimum Performance Training Method created by the National Academy of Sports Medicine.  It supports injury prevention, working up to your goals (not just jumping right in).  Each program is designed by me and cusotmized just for you.  You need to run faster and throw harder--we can do that.  You need to lose some weight and tone muscles--we can do that.  You need new exercises or over come a plateau--we can do that.  I provide the workout.  You can see it on any device or print it out.  Also, if you like gadgets, you can sync your fitbit or jawbone to the system so I can see how many steps you have taken, monitor your heart rate and whatnot.  You have the opportuity to workout at your favorite gym, outside, at home, with a friend--whatever works for you.  Just know you will be held accountable to get it done.  I will meet you, but I will check on you.
3. Supplementation
Supplementation is an interesting topic.  Always pros and cons.  But this is a really great way to stay on track.  If you are losing weight and cutting calories, then you need something to fill the gap.  You need a reliable multi vitamin to give you what you need to keep you strong, but something that does not have calories.  I have shakes and snacks that keep you on track with easy on the go options as well as easy calorie tracking.  Looking to get that  little extra boost to recover from workouts or need a great post workout snack/drink.  I have that.  These are great choices to keep you on track supplement the food choices you are already eating.
4. Support/Coaching
Please remember that there is always support for you here.  I can help with any question you may have whether it is about the site itself or you are just having a tough day.  Access via facebook and skype will lead you directly to me.  If you have questions there is also a fitness vault that you have full access to with recipes, question & answer, FAQs and webinars by exerts in their field.
This 4 pillar progam is a one stop shop to meet your health and fitness goals.  Just log on and take the guess work out.  Let the fitness plan come to you.  Just add determination and attitude.
I have to tell you all that I am so excited right now!  Our garden is producing some super yummy food!  I know not everyone has time or space for a garden, so I really hope you help support the farmer's market.  It is the best, guilt free food you could possibly eat.
I have heard and listened recently to those frustrated with weight loss.  Trying so hard to meet their goals, feeling they have to be on one specific path.  I want everyone to know that food and eating should never cause such heartache.  I have taken nutrition courses and can tell you numbers and translate all the math.  But that's not what we do when we eat.  I love Michael Pollon's book "Food Rules".  He is a journalist who has some pretty good things to say about eating and nutrition.  His best rule of all "If you eat real food, you don't need rules."  How extremely true.
So when I say that this is the best time to lose weight, I'm not joking.  Eat real food, eat regularly=healthy weight loss minus the guilt.  One of the biggest questions I am asked is "What should I eat?" or rather "What do I need to avoid eating?"  I never suggest avoiding anything (that will make things worse) but always suggest that you add food.  Real food refers to whole food, food that is in its natural state and not processed.  Little by little you will find out what you like, that it is NOT more time consuming and that it makes you feel better.
Try some new food.  Eat (mostly in the morning).  Don't feel guilty or frustrated.  Sometimes we forget how easy it is to eat  foods that give us energy, lower blood pressure and make us feel good about our choices.  We eat other things too, cuz we are human.  We eat. We eat what is available.  But eating to lose weight is completely the best!
/